Fluent SMTP is a free plugin for WordPress that allows you to send emails via your WordPress website. A fluent SMTP plugin will solve your problem with email delivery by connecting to WordPress Mail with your email service provider. These integrations are native to WordPress; therefore, it will be able to send emails extremely fast. Fluent SMTP will swiftly forward your transactional and marketing emails when you connect to as many email service providers as you wish.
How Does Fluent SMTP Perform?
Fluent SMTP is an email-sending software that can improve your email communications speed and efficiency. The tool can be used to send emails in a variety of forms, including HTML, text, and even video.  Fluent SMTP can also use to create newsletters, which can send out to a large number of recipients at once. In addition, the software can track the delivery of your emails, so you can see how many people have opened them and whether or not they read them.
Utilizing automated tools, thorough monitoring and load-balancing, Fluent SMTP can send an email with ease and speed. The core of Fluent SMTP utilizes sophisticated algorithms to identify the most effective method for every email, ensuring that your message reaches the recipient quickly and efficiently. Additionally, the system uses several servers across the globe, offering high availability and providing that transmissions will consistently deliver regardless of server failures.
👉 The plugin can be downloaded from WordPress and then transferred the files by FTP to the /wp-content/plugins directory.
 
👉 The easiest method to accomplish this is through the WordPress administrator dashboard.
 
👉 Navigate to Plugins->Add New on the admin dashboard. Look up Fluent SMTP.
 
👉 When the plugin installation procedure is complete, click "Install now" and then activate the plugin.
👉 After activating the plugin, an additional option will appear within the Settings menu. Go to Settings > SMTP and then the WordPress dashboard.
 
👉 The Welcome screen for Fluent SMTP will appear when you open it.
Fluent SMTP can be used with Fluent CRM to send the email. Fluent CRM entrusted the task to an external email-sending service. We recommend fluent SMTP plugin installation and Fluent CRM configuration to ensure maximum email delivery.
Fluent SMTP is free to use
The Fluent SMTP is free to use by both private and corporate clients. First, sending emails is among the most affordable worldwide, making top-quality service affordable. We also put a lot of emphasis on user-friendliness, which means no complicated settings or technical expertise is required to begin working using Fluent SMTP.
Additionally, our plethora of options, like the ability to dynamically schedule, authenticator, and global IP routing, give you total control over your campaign's results. In the end, we recognize that various people and businesses have distinct requirements for email delivery. This is why we provide several plans with flexibility that meet your individual needs.
The Features of Fluent SMTP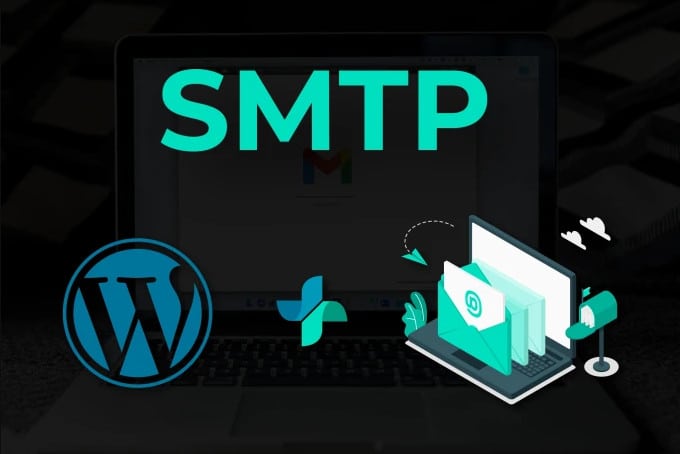 Fluent SMTP is an efficient email delivery system with numerous features that can help businesses increase their email marketing effectiveness. The features offered include:
Effective & trustable delivery mechanism
Fluent SMTP is a robust, high-quality, reliable delivery system designed to ensure efficient email delivery. This software can instantly deliver emails to anyone regardless of network traffic due to its intelligent message queue algorithms and adjustable time settings. Furthermore, Fluent SMTP has the unique ability to detect corrupted files and then automatically attempt delivery in the event of errors.
 Easy integration
Fluent SMTP is the ideal solution for easy integration with diverse software programs. This email platform plugin comprises various features that allow integration with different systems. Some key features include distributing messages across multiple receivers and transferring messages between various addresses. In addition, fluent SMTP provides powerful customization capabilities, allowing users to personalize their email messages to meet the specific requirements of their clients.
 Speed Aspects
Speed is among the best aspects of Fluent SMTP, a well-known software for marketing emails if you're sending large amounts of emails or want to ensure that your messages get to you in the shortest time possible. Fluent SMTP comes with various features and tools that allow you to accomplish your job efficiently and quickly. Its primary features include speedy server connections, the ability to control the timing settings, and sophisticated email filters.
 Scalability
Scalability is crucial for any business that wants to expand its operation or explore new markets. With Fluent SMTP, you can ensure that your marketing campaigns via email will grow with your company. It doesn't matter if you're sending just a few emails each month or need to send thousands of emails daily. Fluent SMTP can adapt to your requirements without compromising speed or reliability. Furthermore, the intuitive user interface is easy to use by everyone regardless of their degree of experience in the tools for marketing via email.
 Complete reporting and analytics
Analytics and accurate reporting are essential for any firm that wishes to maximize its marketing efforts.  Fluent SMTP is an effective email marketing software that aids in gathering and analyzing critical information on the level of engagement of customers, campaign effectiveness, and other crucial metrics. Companies may evaluate the effectiveness of their marketing initiatives in real-time and make necessary adjustments thanks to features like automated reporting, detailed tracking statistics, and customized dashboards.
Pros
Fluent SMTP has some benefits, some of which are as follows:
👉 Setting it up and configuring it are simple processes.
👉 A wide range of email providers is supported.
👉 You may individualize email messages with it.
👉 SPF and DKIM authentication already exist.
👉 Email distribution through it is dependable and quick.
👉 Additionally, it's an excellent choice for companies that need to send many emails.
 
Cons
Fluent SMTP's potential drawbacks here include preceding:
👉 If you need to become more familiar with SMTP servers, setting them up and configuring them can be challenging.
👉 Reliability problems can arise, especially during times of high demand.
👉 Microsoft Exchange servers are not supported.
Fluent Form is a user-friendly plugin to use for WordPress form building. You can use a Fluent SMTP plugin with the fluent Form to set up a situation to send the email.
Available Email Service Connections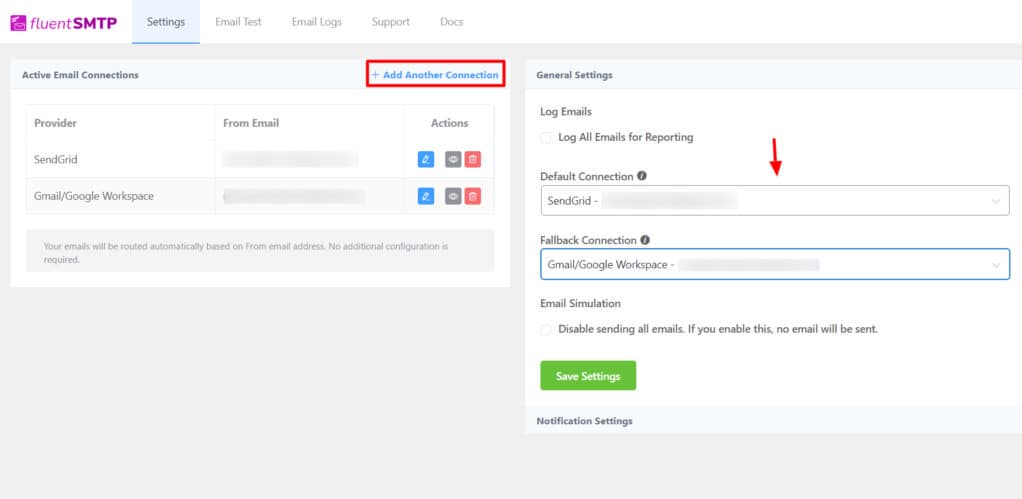 Amazon SES API Connection
You may access Amazon's robust, affordable, and highly deliverable managed infrastructure using a Fluent SMTP SES Connection. Fluent SMTP makes it easy to set up the Amazon SES API and deliver your WordPress emails. The integration works with Amazon's most recent SES API, so your emails will be delivered quickly and in the best method.
SendGrid API
SendGrid is the most popular service for sending emails to your email. You can count on their worldwide distributed cloud-based technology to send WordPress emails. You can set up your SendGrid email connection API using Fluent SMTP in just a minute.  Through this direct API connection, you can send your WordPress emails quickly and securely.
Elastic Mail API
Elastic Mail is a great option for sending marketing and transactional emails. It has an easy-to-use dashboard and advanced functions like data and statistics that are updated in real-time. The Fluent SMTP plug-in is compatible with the API, and you can utilize it to send WordPress emails using Elastic Mail.
Automatic Email Routing
With Fluent's exclusive multiple connection driver capabilities, you can create any number of connections to email you like. Fluent SMTP will safely forward your email messages to the relevant email drivers using the data from your Email Address. This is among the many unique and valuable capabilities that Fluent SMTP provides. Now, you can send transactional emails using one connection and marketing emails using a different connection.
Email Logs and Reporting
Are you interested in knowing how many emails your website sends out? Fluent SMTP covered you with its powerful and fast email logs and reporting that you can check the status of your WordPress emails' status. The daily facts for your email are also displayed in graphs and charts.  Additionally, you can send emails at any time you wish. This is quite useful for archiving emails, outgoing auditing emails, and troubleshooting while building your website.
If you wish, you can disable this feature, and only emails that fail to send will be recorded so that you can check. Fluent SMTP utilizes an individual Database table, so your WordPress Tables won't be overloaded.
Office 365 API connection
Connecting to Office 365 emails is possible using the Fluent SMTP WP Mail Plugin. Emails can be sent using their API from Office 365. It's efficient and safe.  Utilising the OAuth2 authentication system to secure the connection, you can easily set up and send emails using Office 365.
Security
Experts design fluent SMTP with security and scalability and security with scalability and security in mind. Fluent SMTP offers several options to ensure that you're emailing securely.
Why should you select Fluent SMTP?
👉 A simple and easy interface.
👉 Feature-packed.
👉 That supports any SMTP services.
👉 Integrates several SMTP services to create one site.
👉 There is no need to purchase a premium version, and there aren't any restrictions.
👉 Support built-in for the most popular services.
Fluent SMTP is a great and free plugin for anyone looking for a free way to manage their WordPress site's email delivery. Fluent SMTP is the perfect plugin for you if you're looking for an easy and free way to manage your website's email sending. Install and set up Fluent SMTP to instantly and permanently resolve email delivery concerns.